Joint LBC/BTO Conference Saturday 30th January 15.00 - 17.00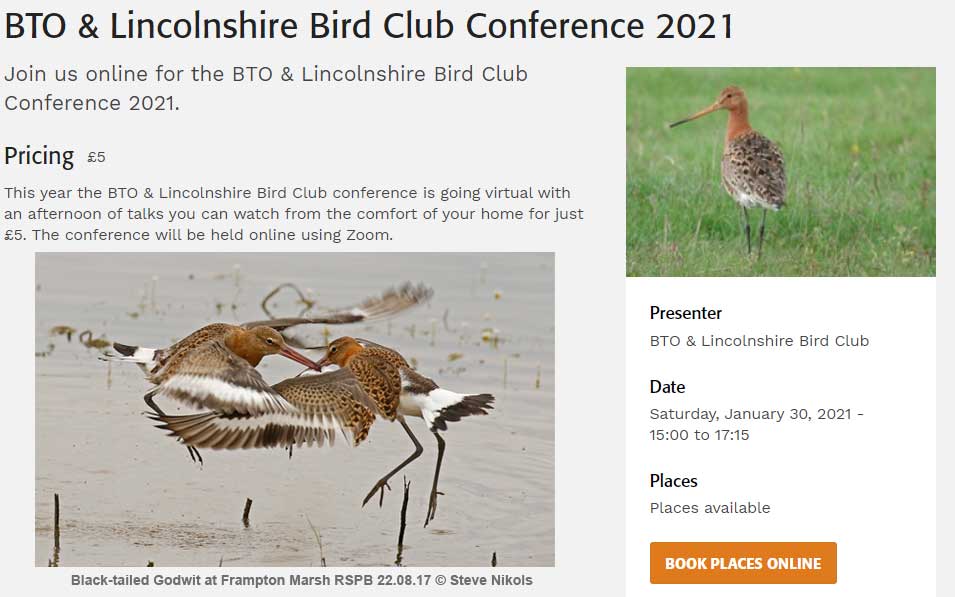 In order to provide a modicum of mid-winter cheer we have organised a first for you. A joint LBC/BTO conference via Zoom which will be chaired by Dawn Balmer of the BTO who will operate the technology. Registration details which will be handled by BTO at https://www.bto.org/community/events/202101-bto-lincolnshire-bird-club-conference-2021. There will be a registration fee of £5. The programme is as follows.
1445 Join conference by logging into the Zoom account for which you will be sent a link
1500 Welcome – Phil Espin Chair LBC
1505 Black-tailed Godwits – Jenny Gill University of East Anglia
1535 Managing Frampton Marsh for passage and breeding waders – John Badley RSPB
1600 Comfort break
1610 How your birdwatching records are used in Europe – Dawn Balmer BTO
1635 Nocturnal bird migration – Simon Gillings BTO
1710 Close
There will be a facility for questioning the speakers and it should be an informative afternoon. I'd like to thank Chris Gunn BTO Lincs North Regional Representative and Dawn Balmer for coming up with the idea and putting it together. Assuming it goes well we may look to hold our 2021 AGM using this technology if the COVID restrictions persist through to the end of March 2021 as looks likely at the moment.
Phil Espin Chair LBC